Well-known around the world for its majestic landscapes, rich Celtic heritage and vibrant culture, the proud country of Wales also has its fair share of tall buildings. 
From Cardiff to Conwy, there are impressive structures littered across the nation which represent both modern and traditional architecture. They include everything from offices and apartments to churches and world-class stadiums. 
While these buildings may serve different purposes, they all have one thing in common: a lofty vertical height!
So, look to the Welsh skies with our list of the top 15+ tallest buildings in Wales, featuring completed buildings of all kinds. Please note, for this list, we're not including uninhabitable structures, such as monuments, chimneys and transmitters. 
1. The Tower Meridian Quay, Swansea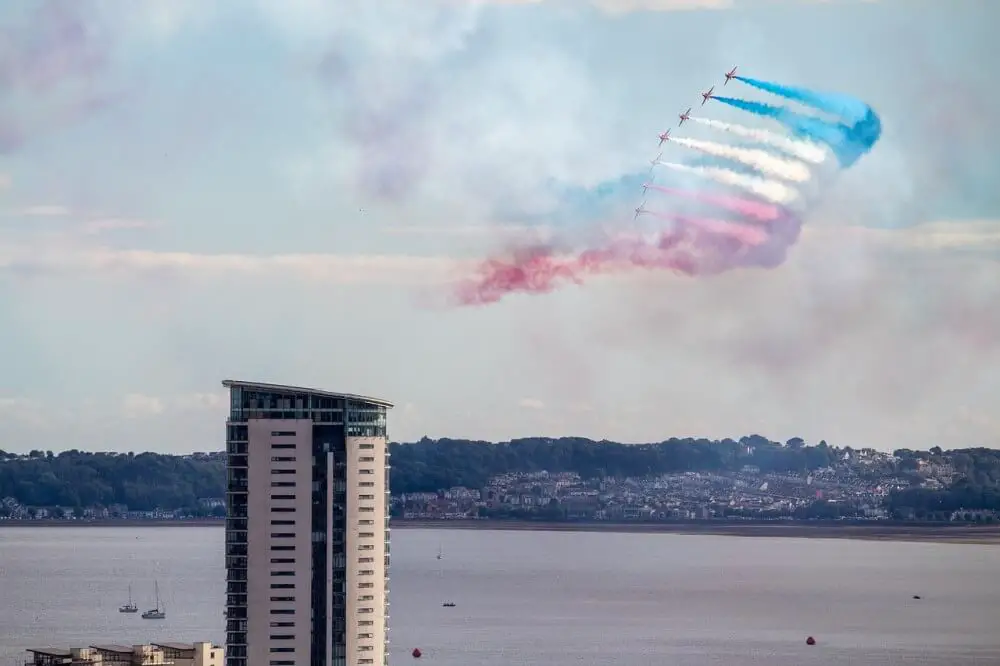 Height: 351 feet
Completion: 2009
Type of building: Mixed Use
The Tower, Meridian Quay, looms over the Swansea waterfront, offering breathtaking views of Swansea Bay and its surroundings. Completed in 2008, it stands aloft as the tallest building in Wales!
The building comprises a mix of residential and commercial spaces, with apartments and offices both available. It provides a modern, spacious living or working environment, with the top three floors hosting a restaurant owned by Brains Brewery.
Its prime location and stunning views of the Bay make the Meridian Quay Tower a unique and special experience for both residents and visitors. And, it also holds the distinction of being the only skyscraper in Wales. 
2. Principality Stadium, Cardiff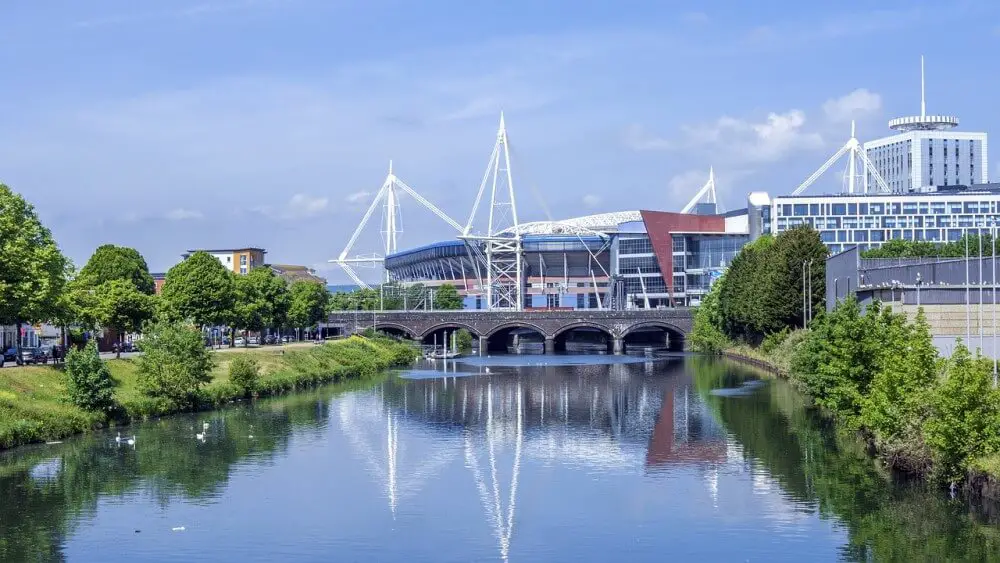 Height: 295 feet
Completion: 1999
Type of building: Stadium
The Principality Stadium, also known as the Millenium Stadium, is a world-class sports venue located in Cardiff, Wales. It boasts an incredible seating capacity of over 74,000 and is one of Europe's largest stadiums.
Not only does the stadium impress with its size, but its iconic design and advanced technology are also noteworthy. Its fully retractable roof offers visitors an all-weather experience, while its top-notch lighting and sound systems guarantee an unforgettable event.
The Principality Stadium is the proud home of Welsh rugby and has hosted some of the biggest sporting events in the world, including the Rugby World Cup and the UEFA Champions League Final. It's also a popular concert venue, with many renowned artists gracing its stage.
3. Bridge Street Exchange, Cardiff
Height: 262 feet
Completion: 2018
Type of building: Mixed Use
The Bridge Street Exchange, located in the middle of Cardiff, is a modern building that offers a combination of residential and commercial spaces. It caters to the needs of both those studying and working in the capital, with particular focus on students.
Finished in 2018 , the Exchange provides easy access to all of Cardiff's must-see attractions, including shops, restaurants, and public transportation. With its stylish design, spacious interiors, and state-of-the-art technology, it is a highly sought after place to live and work.
And, with a full height of 262 feet, it easily claims a place as one of Wales' tallest buildings. 
4. Capital Tower, Cardiff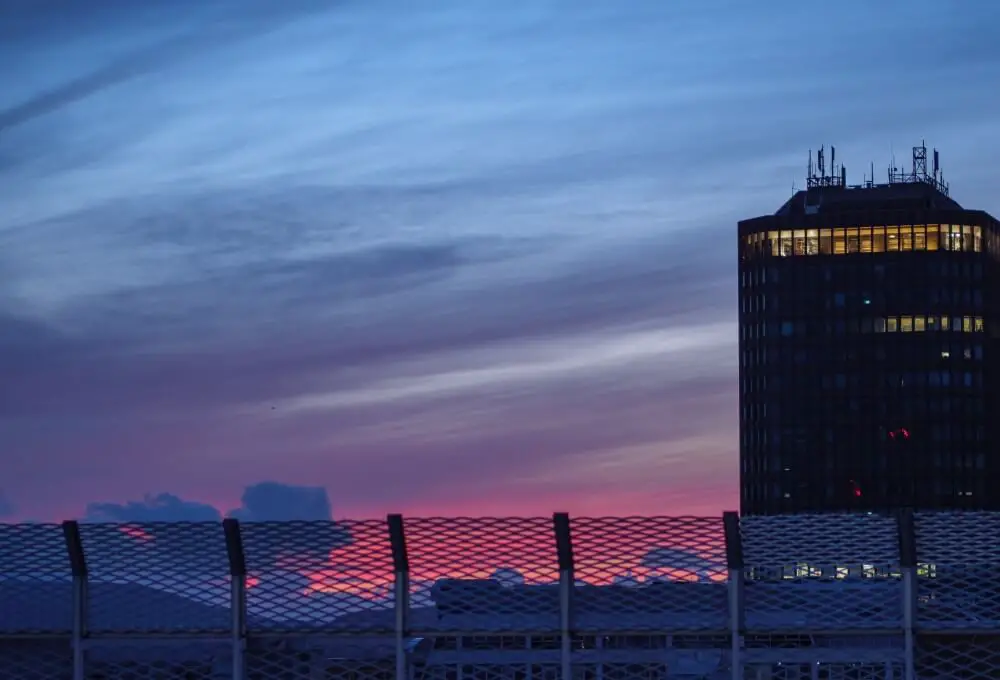 Height: 262 feet
Completion: 1970
Type of building: Mixed Use
Formerly known as Pearl Assurance House, Capital Tower is a mixed-use building located in the heart of the Welsh capital. Standing 262 feet tall, it was completed in 1970 and offers a range of commercial spaces, including modern offices, collaborative co-working spaces and retail space.
The Tower was originally built on top of a 12th-Century Friary, and this stood until 1955, when the decision was made to pull it down and build something new. It took around three years for the building to complete, at which point it was comfortably the tallest building in Wales. 
Among other things, the building now features a multi-storey car park and bars as well as 20 plus floors of office space. Despite being completed over 50 years ago, its timeless design and modern amenities make it a sought-after destination for businesses today.
5. Stadium House, Cardiff
Height: 256 feet
Completion: 1976
Type of building: Office
The 78-metre-tall Stadium House building in Cardiff has long been one of the city's most recognisable. First opened in 1976, it stands adjacent to the Principality Stadium and features a 40 metre steel spire, which, if included in its full height, would make it the tallest building in Wales. 
Stadium House is owned by BT Group and has housed its employees for a number of decades. Such is the company's connection with the structure that many locals refer to it colloquially as 'BT Tower', echoing the famous building in London. 
26 years after its completion, in 2002, it was refurbished and given new cladding, at a cost of £7.1 million. Despite the addition of new tall buildings to the Cardiff skyline, it continues to stand tall as the fifth-tallest building in Wales.
6. Zenith, Cardiff
Height: 246 feet
Completion: 2019
Type of building: Student Accommodation
Zenith, in Cardiff, is one of Cardiff's newer tall buildings. It was planned to address the widespread need for student accommodation across the city, and, since opening, has offered 26 floors worth of rooms for rent. 
Developers behind the scheme, Fusion, are also responsible for other developments in the rest of the UK. Their Cardiff building, at 246 feet tall, represents one of their loftiest designs to date. 
As well as rooms and other amenities, the Zenith building also contains a private gym, a sky bar, and a wellness centre. Its central location also makes it ideal for those studying to get into the centre of Cardiff easily.  
7. Tŷ Glas (Phase 2, Government Buildings), Cardiff
Height: 239 feet
Completion: 1968
Type of building: Office
Phase 2 of the Government Buildings in the Parc Tŷ Glas industrial park were once known simply for their huge size. With a huge floorplan and rising to 239 feet tall, they dominated the local area. 
As well as this, they were known as being the home of HMRC in Cardiff for the entirety of their inhabited existence. However, once they moved out in favour of modern offices in Capital Square in Cardiff, they became abandoned. 
Unfortunately, if after reading this you want to take a visit to these huge offices to see them in person, you may already be too late! This is because these buildings were proposed for demolition in mid-2022, meaning they may not have long left before being converted into new homes. 
8. Altolusso, Cardiff
Height: 236 feet
Completion: 2005
Type of building: Residential
The exotically-named Altolusso in Cardiff is next up on our list of the tallest buildings in Wales. Built at a cost of £40 million, it is located on Bute Terrace, just South of the Welsh capital's city centre, and features 292 one to three-bed apartments. 
Altolusso, meaning 'high luxury' in Italian, replaced the site of the Cardiff Gas Light and Coke Co, which had produced coal and gas since 1837. Most of the buildings were demolished except for the facade, which remains as a quirky example of facadism. 
Fans of the BBC series Torchwood may recognise this Y-shaped building, as one episode features the main character Jack Hartman standing on top of it as he overlooks Cardiff. 
9. Meridian Gate, Cardiff
Height: 207 feet
Completion: 2008
Type of building: Mixed Use
The accolade of being Wales' ninth-tallest building goes to Meridian Gate in Cardiff. This huge complex features two buildings: the taller Meridian Gate tower which rises to 207 feet, and the smaller Meridian Plaza, which is 30 metres shorter. 
Both buildings have different uses. The taller tower is owned by Radisson Blu and operates as a hotel, whereas the shorter building contains 11 floors of luxury apartments. 
Architecturally, Meridian Gate has a few interesting features – it has solar reflective glass as part of its glaze, and makes use of aluminium projecting fins. The landscaped area between the buildings also contains Barcelona lights, as well as a statue to legendary boxer Jim Driscoll.
10. Tŷ Pont Haearn (Iron Bridge House), Cardiff
Height: 207 feet
Completion: 2005
Type of building: Residential
Standing 21-storeys-high, Tŷ Pont Haearn, or 'Iron Bridge House' in English, is situated on Pellett Street, to the South of Cardiff centre. Construction work on it was started in 2004 and finished just a year later. 
It is owned by the Unite group, and offers 144 student flats, as well as a below-ground car park that is open to the public. This car park pre-existed Tŷ Pont Haearn, which, allied to the triangular plot, meant that it was a particularly tricky project to carry out. 
Close to both Cardiff universities, the centre of Cardiff and the train station, it offers all students who reside there a convenient base from which to get around. There is also a 24-hour reception desk and CCTV system.
11. Holland House, Cardiff
Height: 198 feet
Completion: 1968
Type of building: Hotel
Holland House, located just East of Cardiff's city centre, has had a number of iterations. In its first form, it was an office block, which had many occupants including Lloyds TSB Bank. 
Since a comprehensive renovation in 2004, it has primarily functioned as a hotel, with AccorHotels being the current operators. In total, there are 165 rooms, as well as spas, lounges and a bar. 
This renovation also included the destruction of a two-storey structure that had stood adjacent to the main tower. However, this was deemed incompatible with the hotel redevelopment. 
12. Fusion Students, Swansea
Height: 197 feet
Completion: 2021
Type of building: Student Accommodation
The second of two Fusion buildings on this list, the 17-floor high Swansea tower block by the company also is designed to deliver students affordable rented housing. Finished in 2021, it is located on Alexandra Road, close to Swansea city centre. 
Ideally, it is close to both of Swansea University's campuses, meaning that students can get to their lectures with minimal fuss. It's also just a minute walk away from High Street station, making it perfect for transport routes. 
Features of the Fusion Swansea building include a roof garden, bistro and a private gym. There's even a space for garden yoga, for those wanting to wind down after a hard day studying. 
13. Llandaff Cathedral, Llandaff, Cardiff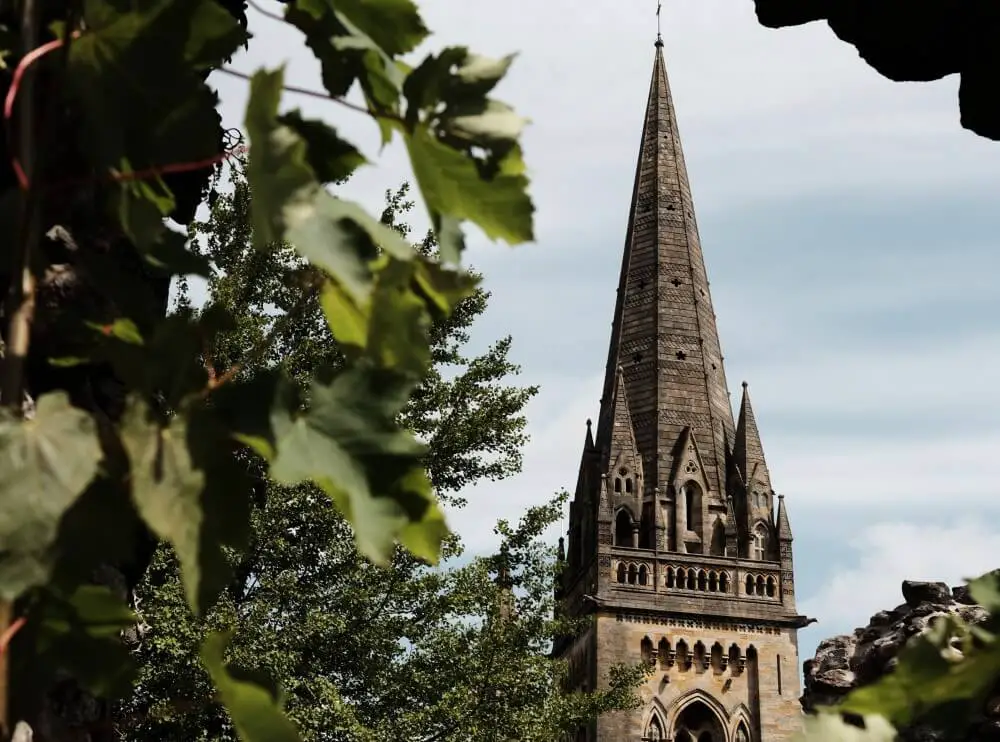 Height: 195 feet
Completion: 1120
Type of building: Religious Building
By far and away the oldest on our list of the tallest buildings in Wales, Llandaff Cathedral, located in the historic suburb of Llandaff, is a stunning example of medieval architecture. Dating back to the 12th century, the cathedral has a rich history and has been an important part of the local community for centuries.
Llandaff cathedral, and the parish in which it stands, were incorporated into the city of Cardiff in 1922. Despite suffering damage during various wars and natural disasters, the cathedral has been carefully restored and maintained over the years, preserving its historic beauty and significance.
It has architectural features including stained glass windows, flying buttresses, and a stunning central nave, making it a popular tourist destination as well as a beloved place of worship.
14. Cardiff City Hall Clock Tower, Cardiff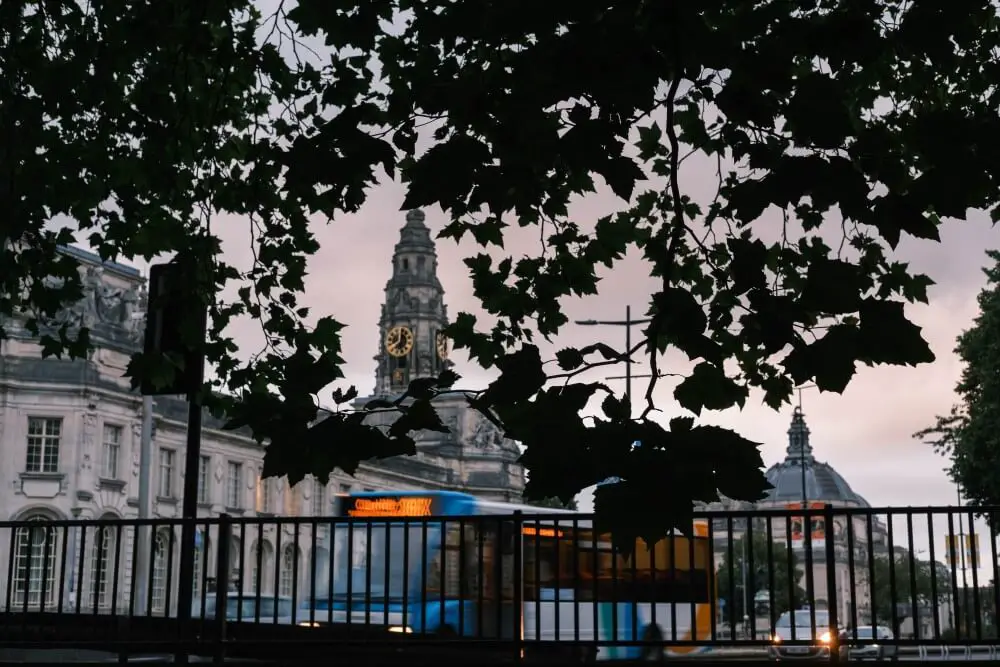 Height: 194 feet
Completion: 1906
Type of building: Civic Building
Standing 194-feet-tall over the main City Hall building in Cardiff, the Cardiff City Hall Clock Tower is a recognisable landmark in the heart of the Welsh capital. It is a grade 1 listed building, and as such is protected from particular alterations. 
Besides this, it is a fine example of British neoclassical architecture, with ornate carvings and grand columns forming part of the tower's make-up. There are 12 foot-diameter gilded dials on each of its four faces.
The clock tower, and the City Hall complex as a whole, is surrounded by beautifully landscaped grounds, which include memorials and fountains. With its stunning architecture and prime location, it provides a glimpse into the rich cultural heritage of Cardiff and serves as a reminder of the city's proud history. 
15. William Morgan House, Cardiff
Height: 190 feet
Completion: 2022
Type of building: Offices
After being chosen as the replacement chosen by HMRC for the afore-mentioned huge Tŷ Glas office complex, William Morgan House would always need to be sizable. Luckily, it is, with the new complex boasting a full height of 190 feet and rising 12 storeys. 
Named after the famous Welsh translator and bishop, William Morgan, the complex includes a bank, office space, and even a hotel. It formed part of the wider Central Square redevelopment in the middle of Cardiff, which also featured a new Welsh headquarters for the BBC.
As well as being acting as one of 13 UK centres for HMRC, William Morgan House can also host government agencies, and is one of the few buildings in Wales which would be capable of hosting full UK government cabinet meetings.
---
That's it for our guide to the tallest buildings in Wales. There's no doubt that the future looks bright (and tall!) for Welsh architecture and urban planning. 
For more compilations, building news and architectural discussion, explore our latest articles, including the 20+ weirdest capital cities in the world. 
Or, for similar guides to definitions and meanings of terms within the building profession, take a look through our range of building wikis, including a guide to what is a tuned mass damper. 
Last Updated on 12 February 2023 by Michael